Regular price
Sale price
$20.00 USD
Unit price
per
Sale
Sold out
Scrub Me Good Premium Exfoliating Sugar Scrubs are the best way to get glowing, beautiful skin. That's because this simple exfoliating scrub does it all naturally. slough dead skin cells, stimulate collagen production, prevent ingrown hairs after waxing and shaving, and moisturize your skin—all in one easy step! Our Sugar Scrubs are perfect for all skin types, especially sensitive skin, and gentle enough to use daily. Magic? Maybe. Handmade with love in Minnesota? Absolutely!
About Our Exfoliating Sugar Scrub Premium Ingredients:
When it comes to creating the best exfoliating sugar scrub for everything from your neck on down, we purposefully picked vegan, high quality natural ingredients that anyone can pronounce: Sugar, coconut oil, avocado oil, sweet almond oil, vitamin E oil, essential oils, and natural fragrances. All of our ingredients are sustainably sourced and tested for quality, so you can get your daily body exfoliation on in confidence. Better than DIY sugar scrub, ours is fabulous for hands, feet, and everywhere in between.
Fragrance With Purpose - Rosemary Mint
Essential oils smell great but also give our scented exfoliating sugar scrubs added benefits that support your mental and physical health. 
Rosemary – Have a good morning (and more of them!). Rosemary has been found to improve brain function and increase attentiveness and alertness.  
Peppermint – Have an itch you just can't scratch? Peppermint is your new BFF. With antimicrobial properties and a fresh cooling effect, it can help stop chronic itching and cool you down after a heated workout.
Rosemary Mint Exfoliating Sugar Scrub is a great pick-me-up in the morning or at any time of the day.
Exfoliating Sugar Scrub Benefits & Instructions:
How do you exfoliate with a sugar scrub? Simple—open our scrub, stir it well (if needed), and apply it to wet skin in the shower. Scrub until sugar dissolves, and rinse. Take it easy on the pressure the first few times. And note—this specific exfoliating sugar scrub is meant for your body, not your face. For extra exfoliation, try it on dry skin and rinse well. If you have a few extra minutes after rinsing, nix the towel and let your skin dry naturally to let those moisturizing oils from our natural sugar scrub formula really soak in. BE CAREFUL—your shower may get slippery! If you experience any skin redness or irritation, please discontinue use or use less pressure when scrubbing.
Preservatives? We don't know her.
To keep our exfoliating sugar scrubs as natural as possible, we don't add preservatives, which requires some TLC on your part. Avoid getting water in the scrub jar by only a utensil to scoop your scrub (so… not your fingers!). Replace the lid tightly after use. Your exfoliating sugar scrub will stay fresh for weeks with proper usage—that is, unless you use it all up first!
The 10 ounce exfoliating sugar scrub will scrub you neck to toe twice a week for 2-3 weeks.  

The 18 ounce exfoliating sugar scrub will scrub you neck to toe 3-4 times per week for 3 weeks.
Ingredients: sugar, coconut oil, sweet almond oil, avocado oil, rosemary essential oil, peppermint essential oil, vitamin e oil

A note about our beloved bamboo spoons:  We listened to your feedback!  Because our bamboo spoons are so durable and completely reusable, as of July 17, 2023 we no longer include one with every purchase.  If you'd like to add one be sure to choose that option when you order!
Share
View full details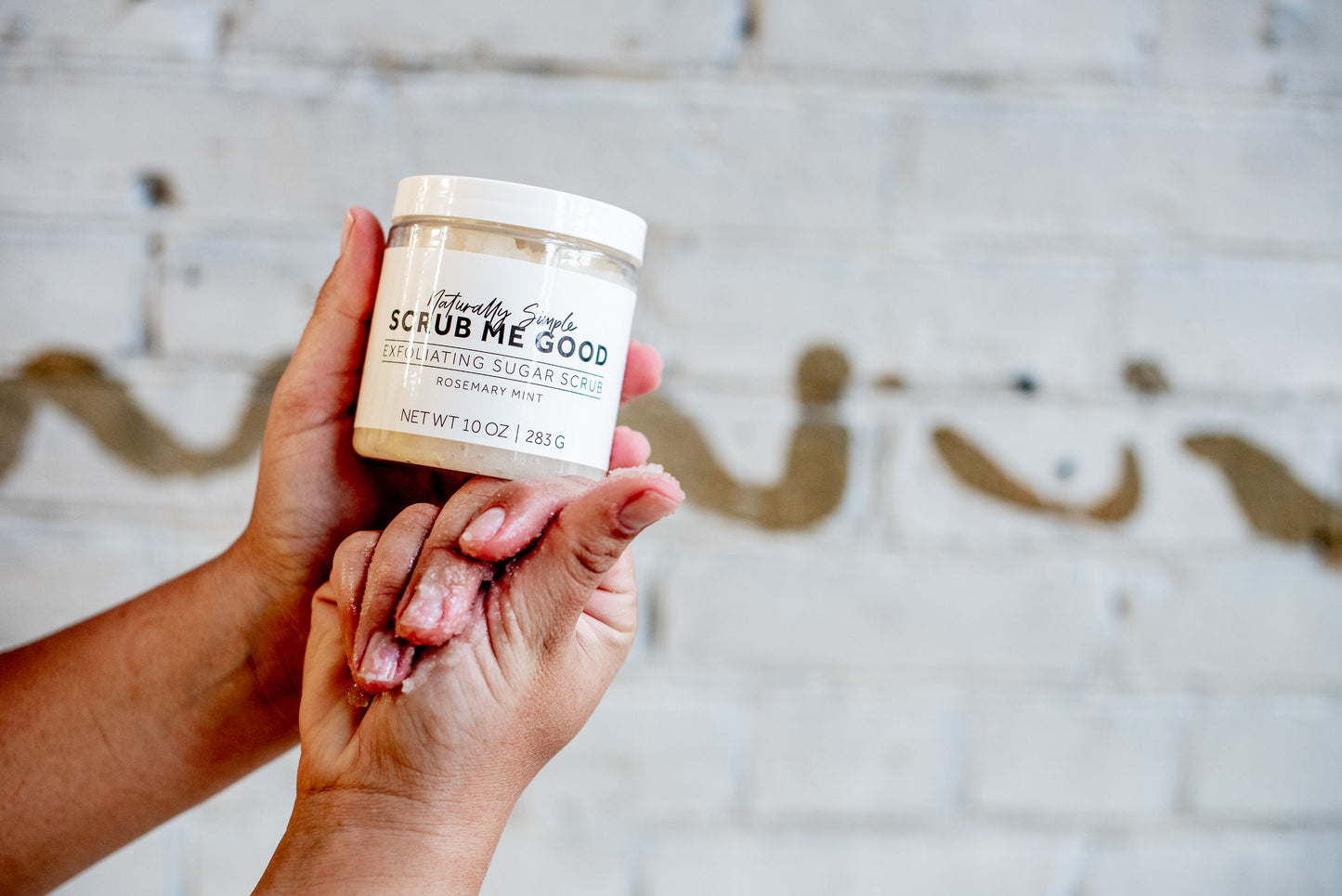 LOVE IT!
I LOVE all of Scrub Me Good sugar scrubs but this one is my favorite!
Amazing!
This is my favorite exfoliating scrub I've ever tried! It smells delightful, and leaves my skin so soft and moisturized! I will be stocking up, especially this winter!